Netflix und Marvel haben soeben den ersten, vollwertigen Trailer zur kommenden Serie The Defenders veröffentlicht. Nachdem Marvel und Netflix die letzten Jahre damit verbracht haben das Defenders-Universum und seine Charaktere aufzubauen, werden wir im ersten Trailer nun Zeuge wie alle aufeinander treffen.
https://www.youtube.com/watch?v=hz5pjXGbkEs
Jessica Jones befindet sich im Verhör mit Misty Knight, als Matt Murdock den Raum betritt und sie kurzerhand als Anwalt vertritt. Luke Cage kehrt hingegen nach seiner Haftstrafe nach Harlem zurück und wird von Claire Temple mit der Iron Fist Danny Rand bekannt gemacht – mehr oder weniger erfolgreich, denn es kommt zu einem kurzen Schlagabtausch. Inwiefern Lukes unverwundbare Haut gegen Danny Iron Fist Stand hält, werden wir dann in der Serie zu sehen bekommen. Wir können zudem einen ersten Blick auf Signourey Weaver erhaschen, die in The Defenders die Rolle der Oberschurkin einnehmen wird. Näheres zu ihrer Rolle ist bislang leider nicht bekannt. Spannend dürfte auch die Rückkehr von Elektra sein, die Netflix und Marvel in den letzten Tagen bereits mit einem Teaser andeutete.
Der Trailer gipfelt in einem Schlagabtausch der Helden in einem Flur. Man merkt, dass die Daredevil-Choreographen hier mit am Werk sind.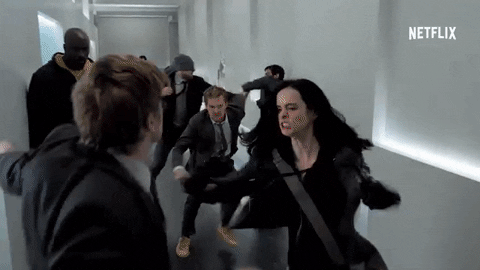 Untermalt wird der Trailer vom Nirvana Song Come As You Are, dessen Titel gut auf die ungleiche Truppe mit verschiedenen Herkünften und Hintergründen zutrifft.
Marvel und Netflix scheinen einen ähnlichen Weg wie beim ersten Avengers-Film gehen zu wollen: eine gute Mischung aus Action und Humor. Für meinen Geschmack darf es aber noch etwas düsterer zugehen, als im Trailer suggeriert. Dafür stehen die Netflix-Serien von Marvel schließlich. Geht man nach dem Trailer, scheinen die Autoren außerdem ein gutes Händchen dafür zu haben die unterschiedlichen Seiten und Charakteristiken der Helden untereinander auszuspielen. Das hat mit einem Tony Stark und Steve Rogers auf der großen Leinwand bislang auch immer gut funktioniert.
Ob letztlich dann alles so aufgeht, wie wir es uns wünschen, erfahren wir schon relativ bald. Ab dem 18. August stehen alle Folgen der ersten Staffel von The Defenders auf Netflix zur Verfügung.